Rescue A Generation Christian Ministry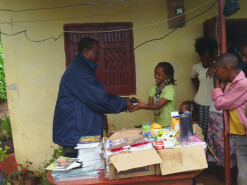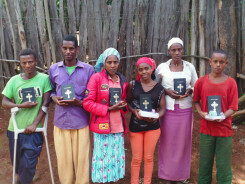 Hosanna! is actively involved in some very exciting and dynamic international efforts sharing the love of Jesus with others around the world!
Rural Ethiopia, Africa
Thanks to everyone for their support for this ministry! Contributions toward helping the children of this ministry are accepted at any time.
Here are some quick facts:
Hosanna! has been involved with "Rescue a Generation" since 2005.
We serve in a remote, very poor town in western Ethiopia.
Many children have lost one or both parents to disease and with it their means of support.
Children must pay for their own school fees, uniforms, books, and supplies in order to receive an education.
Thanks to Hosanna!, between 100 and 150 children receive schooling at no expense.
Thanks to Hosanna!, more than 30 youth have earned university degrees over the years.
Above all, this is a Christian Ministry that provides mentoring, fellowship, and support in the name of Christ.
Thanks to Hosanna!, these children understand Christian hope and love.