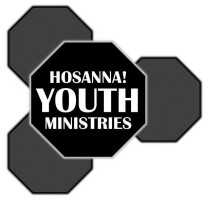 HOSANNA!'S STUDENT MINISTRY EXISTS TO HELP STUDENTS

BELIEVE

IN JESUS CHRIST,

BELONG

TO A COMMUNITY WHERE THEY CAN GROW BOTH PERSONALLY AND SPIRITUALLY, AND

BECOME

ALL THAT GOD HAS CREATED THEM TO BE.
---
Events:
Velocity (6th-12th grade): Wednesdays from 7:00-8:30 pm. Click here to register.
Confirmation Class: two Sundays a month from 9:00 -10:00 am. First class is September 10.
Deeper (High School): every other Sunday from 6:00 - 8:00 pm (offsite).
---
Velocity
Our student ministry for 6th-12th graders (nicknamed "Velocity") meets most Wednesdays during the school year from 7:00-8:30. We believe student ministry should be both fun and spiritually challenging. During Velocity, we generally play a couple group games, have a Bible based lesson to challenge students in their faith, and end with small group discussion time so that students can build friendships and encourage each other. We know that friendships formed at Velocity can last a lifetime.
Confirmation
Confirmation is for any student 8th grade or older looking to enter the process of confirming their faith in Jesus. We offer a confirmation class going over the essentials of our faith. Confirmation class meets twice a month from September-April at 9:00 - 10:00 am on Sundays. Parents/guardians are welcomed and encouraged to join us for our class. In addition to our Sunday class, confirmation students are asked to join us on Wednesdays for Velocity and take part in our annual summer youth trip (mission trip, conference, etc.). After finishing the class, students get the opportunity to confirm their faith at a special service in October.
Deeper
"Deeper" is a small group for high school and college-aged students that want to go deeper into important faith topics. Deeper meets every other Sunday night from 6:00-8:00 at a host home in the community. At our group, we share a meal together and then dig into the Scripture passage or topic of the night.
Special Events
In addition to our weekly programming, students are invited to participate in a number of special events throughout the year. Some events are fun activities designed to help students build relationships. Other events are focused on showing the love of Christ by serving our surrounding community.
If you have questions about our Youth Ministries events, or if you're an adult looking to get involved as a leader, please contact Jesse through the church office at (630) 584-6434 or